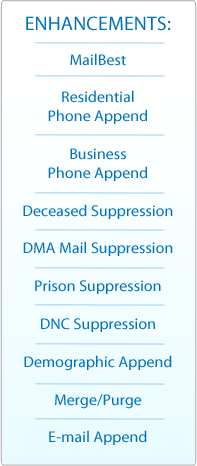 Targeted Business and Consumer Mailing Lists
Reach your target audience with professionally compiled Consumer and Business lists.
Grow your customer base with a consumer list and choose who will see your valuable message. Target consumers by demographics like age, income, home value, presence of children, homeowner vs. renter, and many more.
Reach out to other businesses with business and professional lists that are compiled and updated monthly from a number of sources including yellow page directories, annual reports, and industry directories. Select your targets by business type, number of employees, sales volume and much more.
We can also do email campaigns to coincide with your mailing.
Enhance your data:
MailBest – Want a great way to do a targeted mailing? Send us any customer list and we will use predictive modeling to find prospects just like them. Discover why so many of our customers are having success with MailBest.
Phone Appends – We verify and/or add phones to either consumer or business lists. Need DNC scrubbed phones? No problem!
E-mail Appends – Have a list of customers you would like to e-mail? We can append e-mail addresses to any direct mail list, following all CANSPAM regulations, and give you back a database that can be used again and again.