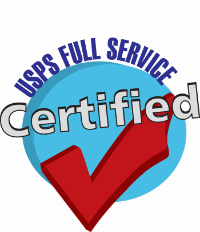 USPS Full-Service Certification (FSC)
What is Full Service Certification?
FSC is a voluntary certification offered to mailers that have provided consistent, high quality mailings to the USPS. 
What are the criteria for Standard Full-Service Certification?
Achieve established full-service quality thresholds

Maintain quality thresholds
Key Requirements for Full-Service:
Apply unique Intelligent Mail barcode (IMb) to each postcard, letter, and flat

Apply unique Intelligent Mail tray barcode (IMtb) to trays and sacks

Apply unique Intelligent Mail container barcode (IMcb) to placards for containers (i.e. pallets) when required

Submit postage statements and mailing documentation electronically (mail.dat)
What does this mean for your business?
Mail Movers is currently the only Mail Service Provider on the Eastern Shore with this certification.  We take our customers mail very serious and are always looking for new ways to help our customers with getting the mail in mailboxes as quickly and efficiently as possible. As the USPS turns to technology to help with mail delivery as a trusted partner we will work with them to keep the mail moving at the lowest cost for our customers.