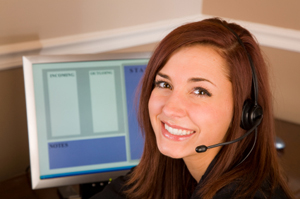 We look for many qualities in the individuals we hire -- the ability to communicate effectively, a high level of organization, strong interpersonal skills, and so on. Regardless of an applicant's qualifications, we always look for one attribute in particular -- the desire to provide high quality products with excellent customer service.
We can train people how to work with clients or run pieces of equipment, but to have passion for customer service and pride for your work takes a unique individual.
If these are qualities you possess, we're sure you'll find a rewarding career with us. We supply our team with the latest technology, afford them the best training available, and provide every opportunity for growth within our company.
Current Openings
Delivery Driver / Warehouseman

Full Time
$10.10 - $12 /Hour

Summary: Drives company vehicles for all pickups and deliveries. Maintains valid Driver's license

Essential duties and responsibilities: includes the following as well as other duties that may be assigned.

•Makes all pickups and deliveries, including daily trips to Post office as scheduled
•Prepares finished jobs for Post office mail drop and deliveries to customers
•Keeps company vehicles in good condition of repair and notifies Manager of any needed repairs or service due requiring scheduling with service provider. Includes keeping interior/exterior of
vehicles clean.
•Obey all laws, rules and regulations regarding operation of motor vehicle; extends courtesy to other drivers on the road.
•Maintains inventory of equipment (supplies) provided by the Post office. (I.e. bags, trays, sleeves, APC carts, etc.)
•Does general shop clean-up as scheduled and time permitting. (Knock down cardboard boxes, emptying trash and warehouse/dock sweeping)

Qualification Requirements: To perform this job successfully, an individual must be able to perform each
essential duty satisfactorily. The requirements listed below are representative of the knowledge, skill, and/or ability required.

Education/Experience: High school graduate or equivalent. At least two years experience.

Language Skills: Ability to comprehend written or oral instructions. Ability to effectively present information
in one-on-one and in small group situations to customers, Postal workers and other employees of the organization.

Reasoning ability: Ability to apply common sense understanding to carry out instructions furnished in
written or oral form. Ability to deal with problems involving several concrete variables in standardized situations.

Other Requirements: Have a valid Commercial driver's license, DOT certification is a plus and ability to pass DOT physical mandatory. Good mechanical skills. Ability to lift 75 pounds from floor to shoulder height. Able to move up to 900 pounds on APC cart off and on truck to/from dock. Ability to meet reasonable schedules and deadlines. As a secondary assistant in production areas.

Work Environment: The work environment characteristics described here are representative of those an employee encounters while performing the essential functions of this job. Regularly drives a small truck and/or cube van delivery truck in varied weather conditions, including snow.

We welcome applications from all qualified candidates, including minorities and persons with disabilities.