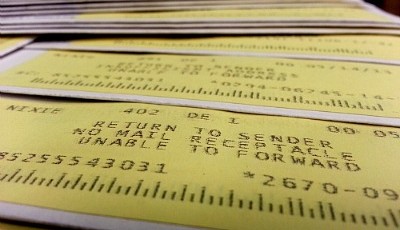 Did you know that an estimated 10 to 25 percent of addresses in your mailing list will not be accurate a year from the time they were added?
This means that a portion of your mailing list may be considered Undeliverable As Addressed (UAA) by the United States Postal Service. In an ongoing effort to reduce operating costs, the Postal System has identified UAA mail as a major culprit in escalating expenses. To reduce UAA mail and its associated costs, the USPS has changed the requirements to receive discount postage rates on mail.
Mail Movers can help you meet this challenge head on.
We will update the addresses in your mailing list using the National Change of Address (NCOALink) database System. The National Change of Address database compiles addresses that have registered for change-of-address forwarding with the USPS. 
We will also process your list through the CASS (Coding Accuracy Support System), DPV (Delivery Point Validation) and LACSLink®, SuiteLink databases to remove any addresses identified as Undeliverable, ensuring that your mailing list contains high quality, deliverable addresses.
---
Frequently Asked Questions:
How can I reduce the amount of undeliverable / non-encoded records?
Mail Movers is offering solutions to this increasingly important challenge. Services like our Advanced Address Correction or Address Resolution Services (ARS). Pair these services with our suppression services, which flag records of deceased individuals, or people that have registered with the DMA indicating they do not wish to receive direct mail offers, these services can provide an uplift of up to 30% of records that would otherwise be lost.
What is the best way to keep my database up to date? 
"My data (or my customer's data) is aging and becoming less effective, and the return on my campaigns is dropping." We've been hearing this more and more. Mail Movers now offers a CRM Refresh package to address just this problem! We will process your entire database and return a file that's sure to re-energize your efforts. Addresses of individuals that have moved are updated, duplicate records are identified, undesirable targets are flagged for suppression, and more. This program makes sure your database has the most complete, correct, and current data available to ensure the best results from every mailing.